LAKE THUN & LAKE BRIENZ CRUISES
Scenic Lake Tours in Bernese Oberland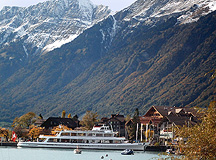 Interlaken, the town which has been a popular tourist destination in Switzerland since the 1800's and one of the most visited by international tourists. On the streets of Interlaken you're likely to hear the most languages of nationalties anywhere. The name means "between the lakes" and the two lakes it lies between are Lake Thun to the west and Lake Brienz to the east, and both offer beautiful opportunities for scenic lake cruising. The cruise line of both lakes is actually the railway company of the Bernese Oberland, the BLS Schiffahrt (Bern Lötschberg Simplon Shipping Company) which operates both diesel powered modern cruise boats and historic steam ships on both lakes. A common way of cruising the lakes is to take the boat in one direction and return, or continue on by rail. The line offers theme scenic round trip cruises as well.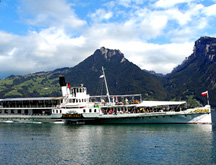 The turn-of-the-century historic paddle steamers of the lakes, restored from the glory days of the past allow the opportunity to savor a fine meal and a glass of wine while cruising past mountain views of the Eiger, Jungfrau and Monch triplet peaks and romantic lakeside villages and majestic castle, or sit in the central Switzerland sunshine on deck. On Lake Thun, the lovingly restored Blümlisalp paddle wheel steamship built in 1906 with room for 450 passengers, 171 dining seats and rare double deck saloon carries passengers between Thun and Interlaken. While on Lake Brienz, the SS Lötschberg first launched in 1914, offers capacity for 800 passengers, with 144 dining seats and panoramic restaurant on the upper deck.
A fleet of motor powered ships including the MS Schilthorn, the MS Stadt Thun, MS Stockhorn and the MS Berner Oberland, offer a regular schedule of cruises and ferry service on the lakes from April through October, shutting down for the winter months, though some theme cruises are offered in winter. Theme cruises with meals include special Sunset Cruises, Dinner Cruises, Buffet Brunch Cruises, even a Swiss Barbecue Cruise. The Swiss Pass and Half Fare Cards are good on the cruise boats of Lake Thun and Lake Brienz, with meal supplement pricing for theme cruises.
Find the best travel and hotel deals in Interlaken on TripAdvisor
Rail Europe
More on Switzerland By Rail:
Scenic Switzerland By Train
© 2012-2016 WLEV