LAVAUX WINE TRAIN
Train des Vignes - Vevey – Chexbrex – Puidoux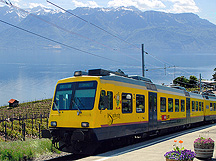 The Wine Train to the Lavaux Region Vineyards is essentially a local regional train departing from the Vevey Rail Station, traveling up into the UNESCO World Heritage terraced wine vineyards above Lake Geneva. The train links Vevey to Puidoux via Chexbrex. Painted in blue and yellow livery and clearly branded the "Le Train des Vignes". It runs every day, once every hour in each direction. The trip to Chexbres takes about 15 minutes, gradually rising above the lake through the vineyards, with the end of the line another 5 minutes. At the Chexbres station, hikers can head out along a number of paths criss-crossing the slopes of the 500 year old vineyards, almost all with their own tasting rooms. Markers along the footpaths explain the history of the vineyard and its grape varieties. Biking is also a way to explore the vineyards. Bicycles can be rented on an hourly or daily basis from the Vevey Train station and taken on the train.
At the Chexbres station, the Lavaux Panoramic Tourist Train, separate from the "Wine Train" (on rubber tires) takes visitors through the vineyards. On the tour, visitors can enjoy the spectacular scenery of the lake while the hearing of the region's history and special vignoble characteristics throughout the journey. The tourist train makes stops at local winegrowers for wine tastings in their cellars. A short walk from the Chebrex station is the Deck Restaurant for lunch, dinner or just drinks overlooking the vineyards and steamers on the lake below. © sbr
No special ticketing is required for the "Wine Train", just a standard ticket or valid Rail Pass.

Find the best travel and hotel deals in Montreux Lake Geneva
Rail Europe
More on Switzerland By Rail:
Scenic Switzerland By Train
© 2012-2016 WLEV