GEMMI CABLEWAY
Leukerbad-Gemmi Pass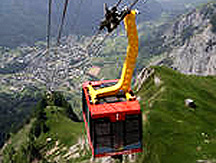 The aerial cable car to the Gemmi Pass from Leukerbad launched a new tram car in July of 2012, replacing the earlier car from the 1995 rebuild of the cable route first opened in 1957. The new panoramic car is still in the familiar bright red with a distinctive yellow armature. The Gemmi Pass is the high mountain pass across the Bernese Alps connecting Kandersteg in the canton of Bern with Leukerbad in the Valais. The pass was used by the Romans and attracted notable historic tourists like Mark Twain and the painter Picasso. The pass itself at a height of 2,350 meters (7,709 ft) above sea level is in the canton of Valais (Wallis).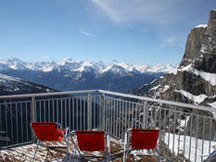 At the top of the cable car is the Hotel Wildstrubel which is owned by the Gemmirail company with a restaurant and new panoramic view deck of metal and glass with offering views of the highest of the Swiss Alps peaks from Matterhorn, Monte Rosa, and Weisshorn to the south and the Bernese Alps of the Jungfrau massif to the north. The Gemmi Pass region provides hiking trails and mountain climbing in the summer and cross-county skiiing and snowshoeing in the winter. There is another cable car pitch to the high altitiude mountain lake, Daubensee for alpine fishing and hiking.
Prices for the Leukerbad to Gemmipass cable are about 21 CHF one way and 32 CHF return for adults. A combination ticket including lunch at the Wildstruble Hotel Restaurant is 34 CHF and 45 CHF respectively. The Gemmi cable car ride is half-price if you stay at the hotel. The cableway price gets a 50% discount with a Swiss Pass.
Review of Hotel Wildstrubel on TripAdvisor
Rail Europe
More on Switzerland By Rail:
Scenic Switzerland By Train
© 2012-2016 WLEV