STANSERHORN CABLE
CabriO® Open Top Cable Car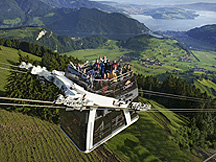 A revolutionary new twist in the scenic mountain aerial cable ride world. A while back it was rotating cable cars like Mt Titlis, to give everyone a chance at a view, but the next generation of aerial viewing mountain cable ride has opened to the summit of Stanserhorn peak near Lucerne, the world's first double decker open top aerial cable car, the Stanserhorn Cabrio. A funicular railway which ran all the up to the Stanserhorn summit first opened in 1893 to serve the Hotel Stanserhorn Kulm, but the hotel closed in 1970 after a plane crash on the mountain destroyed part of it and now is just a restaurant at the top station. The funicular still runs to the Kalti station at 711 meters (2,332 ft), while the rest of the way to the top has been replaced by the cable tram.

The new Cabrio double deck tram car with an aerodynamically streamlined shape has a lower enclosed deck for weather protection, with circular steps leading up to the open-top sundeck surrounded by low see-through glass for spectacular open air views as you are carried from the middle Kälti station up to the 1,850 meter (6,670 ft) peak, with its restaurant the Rondorama, with views of the Lake Lucerne region. The lower compartment can hold 60 passengers while the open upper deck has a capacity of 30, though in clear weather, most want to crowd above.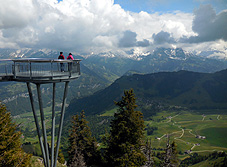 The Stanserhorn Funicular and Cabrio Cable departs from Stans, on the south side of Lake Lucerne. The train from Lucerne station takes 22 minutes by SBahn (S4) or 17 minutes by InterRegio in the direction of Engelberg. There is a four-five minute walk from the Stans railway station to the Stanserhorn funicular station, flowwing the signs. The cable ride portion to the top lasts about 6 minutes. The Lake Lucerne cruise boats stop at Stanstad on the route to Alpnachstad and the Mt Pilatus Railway stop, the train carries one stop to Stans station.
Prices for the Stans to Stanserhorn route are 34 CHF one way and 68 CHF round trip. With the Swiss Pass or Half Fare card, 17 CHF and 34 CHF. Swiss Family Card (Juniorkarte) or Swiss Grand Parents Card (Enkelkarte) are accepted, children from 6 to 16 years accompanied by at least one parent get a 75% discount. Dogs get a discount, too. With a Swiss Rail Pass you can also get a Swiss Peaks pass.

Find the best travel and hotel deals in Montreux Lake Geneva
Rail Europe
More on Switzerland By Rail:
Scenic Switzerland By Train
© 2012-2016 WLEV